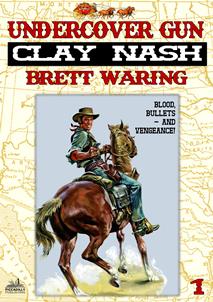 Published December 01, 2016Recommended Price: $1.99/ &pound1.41
1: UNDERCOVER GUN
Clay Nash and his neighbor Cash Matthews were never going to be friends.
Matthews was a big, powerful rancher who always wanted more. Clay was just a homesteader, content with his lot. But when Matthews went after Clay's land—and fenced off the water Clay's cattle needed in order to survive—Clay had no choice but to declare war. It was a foolish gesture that could only end one way, and it did—with Matthews sentencing Clay to a long, lingering death on the high desert. But somehow Clay survived, and when he came back for revenge, he was a new man, a harder man, a man who showed no mercy to his enemies.
Clay Nash was Wells Fargo's secret weapon … an undercover gun.
Read Chapter One Here