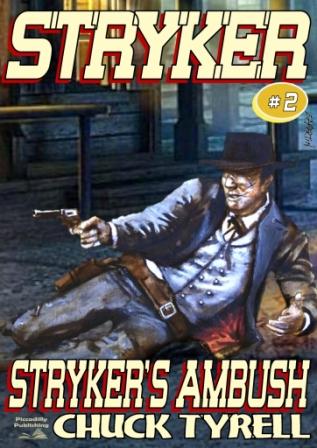 Published November 01, 2013 Recommended Price: $1.25/ &pound0.99
2: STRYKER'S AMBUSH
Matt Stryker took it easy after taking lead from King Rennick, spending most of his time in a big chair leaned up against the wall of Charlie Clark's Kitchen. Then Deputy U.S. Marshal Ness Havelock rode in and asked Stryker to find Alfredo McLaws. Worth ten thousand dollars, Havelock said, alive. McLaws, being half Yaqui, headed down the Outlaw Trail for Mexico, not knowing someone had framed him in a stage holdup. Important government papers were missing, and McClaws was said to have them. Having nothing better to do, Stryker took the job. In riding for Mexico, he heard of a militia being put together in Nogales, Arizona. To protect the town, Jason Bills said, but the sign said the militia was getting set to invade Mexico. Bills held that Arizona's southern border should be a straight line across the 19th parallel, and he was going to back his claim with a hundred men, new repeating rifles, and Gatling guns. Suddenly Matt Stryker was in a race. He had to enlist the Rurales, the Yaquis, the Apaches, and the Pimas in an ambush to keep Bills's Nogales Guards out of Mexico and save Alfredo McLaws' neck.
Published February 01, 2014 Recommended Price: $1.25/ &pound0.99

3: STRYKER'S BOUNTY

Matt Stryker is a bounty hunter hot on the trail of a man running from justice when he comes across burnt-out stage station. The Ridges & Hale coach lies in ashes and the coach's passengers are shriveled black charcoal. But stationmaster Dodge Miller was alive. He'd played dead well enough to fool the perpetrators and then drag himself to the outhouse afterward. Molly, Dodge's wife, may also be alive, as the gang took her with them. Dodge and Molly have often given Stryker of their hospitality and now it's his turn to pay them back. "Please. Please find my Molly," Dodge says, and Stryker promises that he will. But the perpetrators also took two hundred and fifty pounds of gold, and soon half the county is riding in pursuit, including John Walker, the white Pima, and Taklishim, the Apache scout. But when push comes to shove, is Molly Miller more important than gold?

Published October 01, 2014 Recommended Price: $1.25/ &pound0.99

4: STRYKER'S POSSE

Cahill Bowman and his Shadow Box Gang invade Silverton, Nevada, and make away with some sixty pounds of gold from the McQueen Mine's bullion room and take Marshal Walter Nation's daughter Elly along for insurance when they leave. But before they ride out, they nail Walt Nation to the wall and slit his belly open, just to leave a message. Young Matt Stryker, deputy marshal of Silverton, must ride at the head of a posse made up of a black Seminole Indian, a woman stage driver, the town drunk, a former captain in the Union Army, a kid who's looking to make a name as a gunfighter, and a dude that don't know which end of a horse to ride. The Shadow Box Gang rides on, raping and killing as they go. Will Stryker's posse be enough to bring them in?

Published August 01, 2015 Recommended Price: $1.25/ &pound0.99

5: STRYKER'S WOMAN

Ulrich von Waldsburg of Prussia and his entourage–which included a minor Belgian royal named Catherine de Merode–came to the American West to hunt and to observe the U.S. Army in action. But Catherine wasn't just any conventional princess. When she was a child she learned ballet ... and also Savate, the French kickboxing style perfected in Marseilles. At Fort Laramie, she met Matt Stryker. Stryker was to scout for the Waldsburg party, but wasn't there when the renegade Cheyenne, Lean Bear, and his warriors massacred the hunters and their cavalry guard and took Catherine captive. Matt made it his responsibility to find and rescue Catherine de Merode. Little did he know the Cheyenne and then the Absaroka would turn Cat Merode into an animal ... a woman called Dog.