RORY BLACK
Under the name 'Rory Black' Michael D George is the author of the wildly-popular Iron Eyes westerns. Writes Michael: "In my time I've done a lot of things. I've been a barber, a freelance commercial artist, a portrait painter, a grave stone designer (a dying trade), an animator and an author. I did spend a few years in the Merchant Navy and was lucky to have travelled around the world four times before I was 23. I spent a lot of time in America during those days and cruised for two summers between California and Alaska. Now it is forty years later and these days I spend most of my time writing novels under my own name and no less than seven pseudonyms. I've been lucky to number a few of my old cowboy heroes as friends, and my walls are covered in the photographs of several of my cowboy hero pals. I've written a lot of books and have plenty more stories still to tell. As one of those friends, the late, legendary Monte Hale used to tell me, 'Shoot low -- they might be crawling!'"
Titles by this author
IRON EYES
Iron Eyes is not your usual western hero. "The man had a haunting face that hid beneath long, limp, black hair. He wore a battered, weather-proof coat favoured by long riders and road agents which almost reached his spurs. With each stride the sound of bullets clinking together in his deep pockets filled the room. This was no normal man. This was an evil spirit who had yet to die and seek refuge in Hell." This is the legendary bounty hunter known simply as Iron Eyes. Prepare for a high body-count!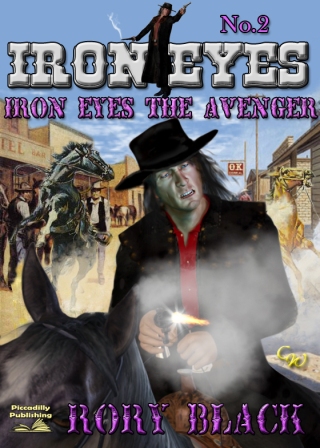 Purchase from these Retailers
This website is the property of Piccadilly Publishing
All rights reserved 2012
For information, please contact the webmaster