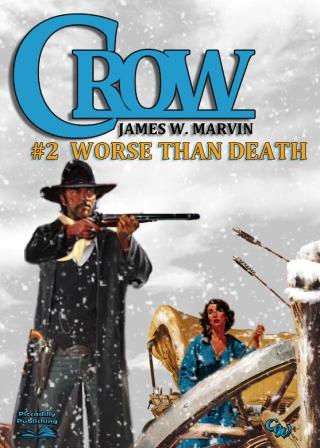 "Know what Crow used to say about livin' by your guns? Said it made him like a kind of alchemist. Said he was the first man in history to turn lead into gold. Yeah. Meanest son of a bitch ever. Crow."
No other name. Just Crow. Dressed in black from head to toe. The meanest man in the bullet-scarred annals of the West. Nobody ever turned their back on him. A cold voice in the shadows, a vengeful angel of death ...
Time was when Crow was a loner, with just his weapons and his horse for company. A time when the snows covered Dakota Territory. When Many Knives led the Shoshone in battle against the Whiteman. Against Captain Hetherington and a wagon train of helpless women. A time when Crow joined in the fight on an isolated plateau above the raging Moorcock River and defeat meant something worse than death ...
Recommended Price: $0.99 / £0.99 (exc VAT)
Purchase from these Retailers