HART THE REGULATER 3: TAGO JOHN B. HARVEY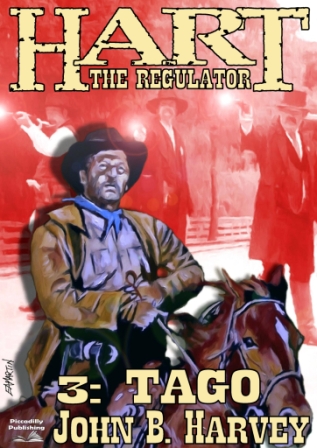 John B. Harvey's own exciting Western series featuring Wes Hart - ex-soldier, ex-Texas Ranger, ex-rider with Billy the Kid. He's tough, ruthless and swift with a .45. Now he's for hire and he doesn't come cheap....
Appointed regulator in the silver-mining town of Tago, Wes Hart had his work cut out -there was Crazy John Carter, cold-blooded murderer of two kids. But when he tried to burn Hart alive, he didn't bank on getting a gutful of lead in the bargain ... Then there was silver thief and rapist Jake Henry ... Dan Waterford, out to blow the brains out of the punk who killed his brothers ... and scheming Lacey, whose last wish was to see a big red hole in Hart's head. Tago was really one hell of a town!
Third in the series by the co-author of HERNE THE HUNTER and CALEB THORN Published January 01, 2014 Recommended Price: $0.99/ &pound0.99
Purchase from these Retailers