HART THE REGULATOR 7: ARKANSAS BREAKOUT JOHN B. HARVEY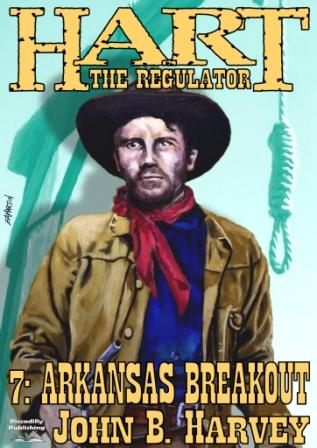 The Regulator is Wes Hart: ex-soldier, ex-Texas Ranger, ex-rider with Billy the Kid. He's tough, ruthless, and slick with a .45. He's for hire now and he isn't cheap...
The train had a very special cargo as far as the Regulator was concerned. His lady and her two young kids were aboard as it burned up the cold steel rail.
Then the desperadoes came. He'd fought them before, back in the town of Caldwell. Lead flies like a red-hot hailstorm and one of the victims is one of those kids.
Hart has a vengeance run on his hands now. Those killers will pay in blood and he will do the debt collecting. With a little help from a friend called Rose, a lady of the night with her own reasons to get even...
Published February 01, 2015 Recommended Price: $0.99/ &pound0.99