2: WARPATH
Taggart was an outcast hated by his enemies and feared by all others. Now the twelve S.O.B.s who has left him swinging from a rope were the only reason he had for living. Together with his renegade warriors, he'd have his revenge. One by one, he'd hunt the yellow-bellies down. One by one, he'd make them wish they'd never drawn a breath. One by one he'd leave their bones scorching under a brutal desert sun.
Published September 01, 2015Recommended Price: $1.99/ &pound1.32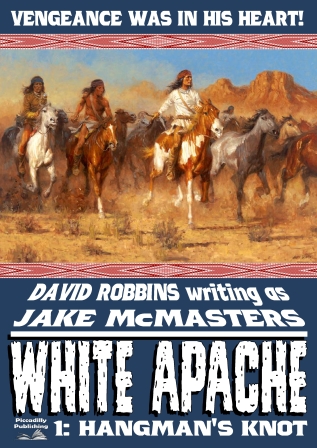 1: HANGMAN'S KNOT
"Clay Taggart ran a palm over his right shoulder and wished he was able to understand the Apache. For all he knew they might be discussing how to dispose of him. The pair by the spring hadn't stopped glaring at him from the moment he'd seen them. He suspected that if he turned his back on them at the wrong time, he'd end up with steel between his shoulders. Clay glanced at the opening and debated whether to make a run for it. Every moment spend with the Apaches was another moment he cheated death. And no man's luck lasted forever. Grunting, he moved to the pool and splashed more water on his aching shoulders and back. The chilling stares of the nearby Apaches added to the goose flesh that broke out all over him. Be patient, Clay told himself. He'd get his chance. Sooner or later, he would escape, and if the Apaches tried to stop him, he'd sell his life dearly."
Published May 01, 2015Recommended Price: $1.99/ &pound1.32