THE SEARCHER 2: LYNCH LAW LEN LEVINSON
Writing as Josh Edwards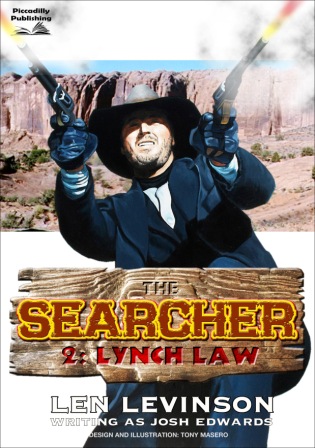 THE SEARCH BEGINS Once, John Stone had everything a man could ever want: wealth, position, and a woman who loved him. But that was before the Civil War. Now he's lost his fortune, and his fiancee has disappeared. All he has left is his Colt, a picture of Marie, and a mission: to roam the west until he finds the woman he loves.

HE IS THE SEARCHER

John Stone came to Dumont in search of his love. Instead, he found himself caught in the middle of a bloody war of revenge when Hank Dawon's son was found dead. Stone falls under suspicion - and he's about to find out what he will do to survive...

Published March 01, 2014 Recommended Price: $1.99 USD £1.23 GBP
Reviews
4.0 out of 5 stars By Elizabeth J. Buck - Published on Amazon.com
"Len Levison enlivens his characters with a realism that engages his readers immediately. The author portrays vividly the main character's loyalty to his childhood friend and love as he searches the Western frontier for her at the end of the Civil War. I am hoping for a sequel that leads John Stone to happiness."
5.0 out of 5 stars By Gloria - Published on Amazon.com
"Lynch law this is a great western . I have read every book Louis glamour, Zane Grey, Ralph Compton, and every known writer. This book rates with the best. I should know I've read all of them. It is a 5 star book would recommend to anyone who loves westerns."
5.0 out of 5 stars A great followup to the first SEARCHER title By Jack Badelaire - Published on Amazon.com
"I'm a great fan of Levinson's work and I'll read pretty much anything he's written, but I'm especially enjoying his SEARCHER series. Here, John Stone becomes the target of vengeance for Hank Dawson, a corpulent land baron of sorts who "owns" almost everything (and, de facto) everyone in and around the town of Dumont. When Stone defends a Chinese waiter in a restaurant from the abuse of Dawson's son and kills a couple of Dawson's men, he's locked up in the local jail only to find himself being fitted for a lynch mob's noose. Stone manages to escape the mob, but Dawson's son is killed in the fracas, and Dawson vows to scour the earth in order to find and kill Stone, and woe betide anyone who gets in his way. "The action is fun and fast, with Levinson's easy, enjoyable style. There's a good cast of secondary characters who come and go through the novel, and there are plenty of twists and turns. You definitely find yourself wondering on many occasions how Stone is going to escape his predicament, and it makes for a highly enjoyable read. As much as I enjoyed the first novel in this series, I think this is the book that ropes us in (no pun intended) and keeps us interested in the books to come."
Purchase from these Retailers
Other Titles By This Author