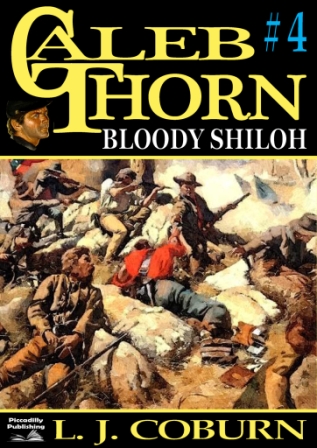 The Caleb Thorn series is written against the background of the American Civil War and contains graphic violence and adult content.
Thorn's Raiders were the most feared seek-and-destroy unit on the Union side in America's bloody Civil War. A gang of condemned criminals, they had been reprieved only to be sent on savage suicide missions against the Confederacy.
They were led by Caleb Thorn, the young born killer with a personal mission of vengeance against the South. But now, on the orders of his commanding officer, Caleb had been temporarily separated from his band of desperadoes. His murderous skills were needed this time not on a guerrilla raid into enemy territory but in the thick of one of the most viciously savage pitched battles of the war: the mass carnage that was Shiloh ...
L.J. Coburn is the pen-name for Laurence James and John Harvey
Published March 01, 2014 Recommended Price: $0.99 / £0.99 (exc VAT)
Purchase from these Retailers
Also by this Author
Click on the covers for more details or to purchase from Retailers