HART THE REGULATER 4: THE SILVER LIE JOHN B. HARVEY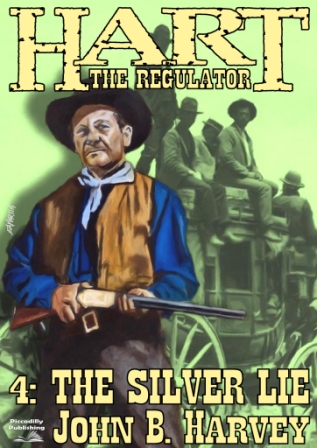 John B. Harvey's own exciting Western series featuring Wes Hart - ex-soldier, ex-Texas Ranger, ex-rider with Billy the Kid. He's tough, ruthless and swift with a .45. Now he's for hire and he doesn't come cheap....
Litte Alice was sure enough cute. And brave. One her father's instructions (and for the right price) Wes Hart agreed to escort her to Denver. Seemed like easy money ... Until Hart discovered silver bullion stashed away in the stagecoach ... Lee Sternberg's gang found out that too. So they figured on blowing Hart's head clean off and making a quick exit with the look. Hart had different ideas ... so after the blood of an ambush, it's the agony of a kidnapping and the brutality of a pulse-pounding showdown at a Rancho Nuevo whorehouse ... And all that for a little girl ....
Fourth in the series by the co-author of HERNE THE HUNTER and CALEB THORN Published March 01, 2014 Recommended Price: $0.99/ &pound0.99
Purchase from these Retailers