HART THE REGULATORby JOHN B. HARVEY
Where to start? The time the phone rang in my flat in Stevenage back in 1975 and it was Patrick Janson-Smith asking me if I were interested in writing a new western series for Corgi Books? Or earlier? My father, then. A lot of things started with him - my very self, of course, but others, too: a sense of fair play, a sort of basic decency - the advice never to get too far above yourself - a more or less lifelong adherence to Tottenham Hotspur - and, importantly here, westerns movies.
From around the age of ten until I deemed myself too old to be seen out socially with my parents in public, we went, the three of us - my father, mother and myself - to see just about every western film that played in our area of north London, the Forum or Palace in Kentish Town, the Odeon or Gaumont in Camden. And what I didn't see with him, my gran - his mother - would take me to see at the poky little Gaisford off Kentish Town Road, which seemed to specialise in B movie double bills, Gene Autry followed by Roy Rogers and the Sons of the Pioneers. Then there was the book, given to me by my father on my twelfth birthday:
The Buffalo Bill Wild West Annual
, written by Arthur Groom and with illustrations by Denis McLoughlin. Linked stories, not comic strips but each several thousand words long, and cleverly involving three English schoolboys taken back in time, were interspersed with dramatically illustrated 'factual' sections detailing the principal tribes of American Indians or the deeds of famous outlaws. There were glorious full-colour plates, reproduced on glossy paper, showing Custer vaingloriously leading his men into battle or - my favourite - the moment Pat Garrett gunned down Billy the Kid. And the endpapers, front and back - fascinating to me, this - comprised a map of the United States, packed with tiny line drawings and dotted with numbers which corresponded to all 26 chapters and allowed you to place each adventure in its correct location. "Tour the Wild West in the Buffalo Bill Wild West Annual" the book invited and for years, those early, impressionable early years, that's what I did. Of course, such being the nature of life, other things intervened - sport, different kids of movies, girls [as distant and illusory, for the most part, as Annie Oakley's sharp shooting or Belle Starr's banditry, jazz and early rock 'n' roll, and the book got lost; lost or given away, I'm now not sure. It didn't seem to matter at the time. Then, in 1982, I walked into a book fair in Belsize Park and there it was, face out on the very first stall, not mine, of course, but a copy in good condition, and the minute I opened it, every word, every frame, leaped back bright from my memory - and none more so than Denis McLoughlin's masterly art work.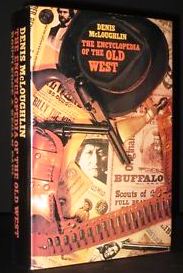 McLoughlin, who came from Bolton, Lancs, and was an honorary member of the Arizona Fast Draw Association, had, in the mid-70s, compiled a fascinating
Encyclopedia of the Old West
, which had usurped the earlier annual in my affections. For, by that time, putting all that boyhood enthusiasm to good use, I had joined a small group of British writers of paperback westerns - the latterly named Piccadilly Cowboys - and, often working in tandem, and under shared pseudonyms, had produced some forty or so books in such series as
Hawk, Herne the Hunter
and
Hart the Regulator
. But wait, now I've sneaked just a little ahead of myself. When that call came in from Patrick, I'd written a couple of biker books, under the tutelage of my good friend and mentor in such matters, Laurence James, but little else. And so it was that when I told Laurence about the interest from Corgi and showed him the ideas I'd had for a series about an ageing gunfighter named Jedediah Herne -
Herne the Hunter
- Laurence suggested, not unreasonably, that we should work on the series together, writing alternate books. As he pointed out, practical man that he was, if his name was on the contract alongside mine, we could expect more money up front. So, what might have been my first solo western series became a co-operative effort of the kind Laurence and I, and a little later, Angus Wells and myself, would enjoy writing for some good few years. It wasn't until four years later, 1980, that I finally got the chance to set out on a series on my own, that series, of course, being
Hart the Regulator
, the ten volumes of which were published by Pan between 1980 and 1983. In those days, we wrote 'em fast! As a character, I suppose Wes Hart was not all that different from my original conception of Jed Herne -tall, taciturn, stoical and deadly - except that instead of being driven by revenge, his motivation was more that of the private eye, who walked the mean mesas and boardwalks alone and once a task had been shaken on wouldn't stop until it was done. I gave him a past that involved him, as well as being a former Texas Ranger, having ridden with Billy the Kid, and perhaps one thing that makes this series somewhat different - for me, at least - was the inclusion of several real-life characters Belle Starr, for instance, in Book 2,
Blood Trail
, and John Wesley Hardin in the eponymous Book 8 - their stories as close to the given truth as was possible. I'd taken an MA in American Studies at Nottingham University by then, and accumulated a small library of books on the West, though it was still McLoughlin's Encyclopedia I referred to the most.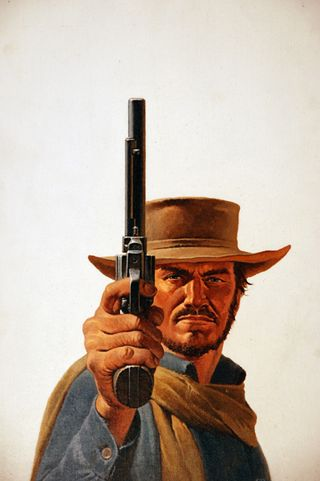 Although Gino D'Achille's excellent illustrations for the original Pan jackets showed him more and more resembling Clint Eastwood as the series progressed, I think Edward Martin's equally fine portraits for the covers of these Piccadilly Publishing reissues, suggesting a man not dissimilar to the laconic but trustworthy Joel McCrea of Sam Peckinpah's
Ride the High Country
, come closer to capturing the spirit of the Wes Hart I had in mind. Happy trails!